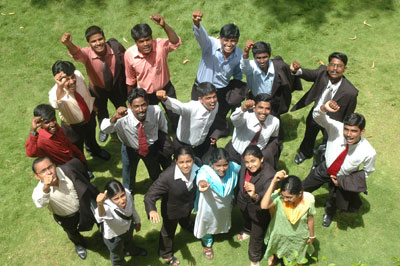 Dean:
Dr. K. Chandrasekara Rao
Telephone:
0413-2654664, 2654547
Departments in this School:
School of Management is one of the popular Schools of Excellence in the campus primarily focusing on the business related courses since the very inception of this University. This School consists of the following Departments: Department of Management Studies, Department of Commerce, Department of Economics, Department of Tourism Studies, Department of Banking Technology and Department of International Business.
The Department of Management Studies offers M.B.A. & Ph.D. programmes, the Department of Commerce offers M.Com. (Business Finance), M.Phil. and Ph.D. programmes. The Department of Economics offers M.A. ( Applied Economics), M.Phil. and Ph.D. programmes, the Department of Tourism Studies offers a M.B.A. programme specializing in Tourism, the Department of Banking Technology offers a specialized M.B.A. and Ph.D. programme in Banking Technology and the Department of International Business offers M.B.A. with specialization in International Business and Ph.D. programme.
The School of Management offers the above said programmes with a total placement focus. While the regular M.B.A. students are found getting good placements in leading MNCs and large Public Limited Companies involved in manufacturing, service industry as well as in high profile Software Industry, the M.B.A. (Tourism) students are finding total placement in travel and tourism industries as well as in hospitability business. M.Com. (Business Finance) programme offered by the Department of Commerce has attracted the attention of companies which are involved in Finance and Investment, Fund Management, Stock Broking, Banking and Nonbanking activities.
M.A. Economics students are in great demand in those organizations involved in policy making such as National Institutes devoted for Economic development, RBI, Government department of Economics & Statistics, etc. M.B.A. Banking Technology degree programme started drawing attention of top leading banks and software companies concentrating on Banking software. The students of the M.B.A. programme of the Department of International Business are finding placement in leading industries in India, including MNCs.