PONDICHERRY UNIVERSITY CONVENTION CUM CULTURAL CENTRE AND GUEST HOUSE

Location
University Guest House is a part of University Convention – cum – Cultural Centre which is situated on the East Cost Road opposite to Pondicherry Engineering College, in a separate campus 14 kms ahead of Pondicherry town.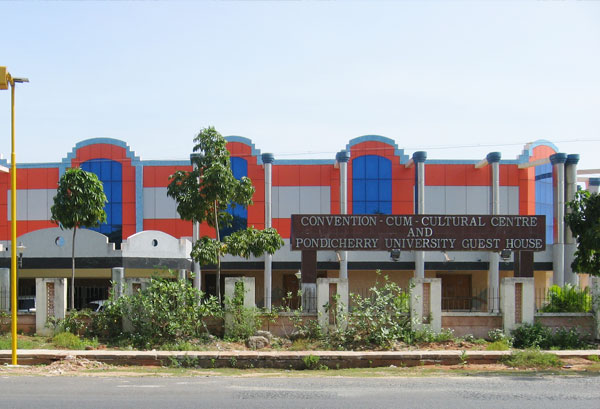 General Facilities
Air-conditioned and fully equipped Auditorium of 360 seating capacity.
wo Air-conditioned halls with 80 seating capacity each.
20 fully furnished Air-conditioned double bedded rooms.
4 fully furnished Air-conditioned Suites.
Air-conditioned Dining hall of 50 seating capacity.
Rental charges, boarding charges and other norms are framed by Guest House Management Committee.
Brief Functions
Full fledged kitchen activities have been introduced (Breakfast, Lunch and Dinner prepared in the Guest House and provided to the guests).
International/National seminars/conferences /workshops/symposium have been conducted in the Convention cum Cultural Complex.
Guest amenities have been provided in the rooms like Shaving Kit, Dental kit, Comb, "for your care kit", soap, Moisturizer, Shampoo, Talcum Powder, Coconut Oil, Toilet rolls and Bathroom Slippers.
Round-the-clock Personnel are available for attending to the guests' needs.
DTH services have been provided in all the rooms.
100 % power backup facility is available in the guest house.
Overall appreciation has been received from the guests for good maintenance, cleanliness and service.
Honorable Guests during the year 2009-2010:
Shri. Kabil Sibal, Hon'ble Minister for Human Resource and Development.
Shri. Farooq Abdullah, Hon'ble Minister for New & Renewable Energy, Govt. of India..
Shri. Navin Chawla, Chief Election Commissioner of India.
Shri. Rahul Gandhi, Member of Parliament.
Smt. Purandeshwari, Hon'ble Minister of State for Human Resources and Development, Govt. of India.
Shri. Ashwini Kaur, Director, C.B.I.
Shri Javed Akther , Renowned Lyricist.
Guest House Contact Numbers
Office Number : 0413 – 2655070
Section Officer : 94432240503
Caretaker : 9487540503